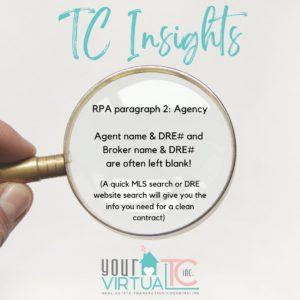 rpa & agency
Did you know that RPA par 2 AGENCY is one of the most commonly missed spots on the contract?!
If all names, DRE#'s & checkboxes
are not complete then additional paperwork (form AC) has to be signed?
If you are unsure of the other parties agent/broker info, you can locate this info in different ways!
Lookup the agents info on the DRE website:
https://www2.dre.ca.gov/PublicASP/pplinfo.asp
MLS Member Roster is searchable in your MLS account
Call/Text/Email the other agent for their info